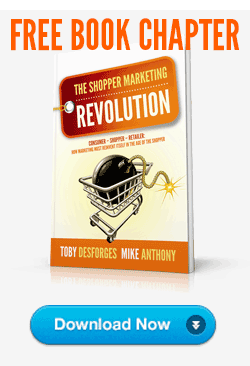 "For those on the fast track of modern business (The Shopper Marketing Revolution) is a  must read." – Paco Underhill (Author of "Why We Buy: The Science Of Shopping")
The top 250 consumer goods companies turnover US$2.8 trillion – and yet, the industry is growing ever so slowly!
As growth declines, profit margins erode: leading  players are caught in a perfect storm where the growth of mega-retailers, hyper competition, explosive increases in input costs, talent shortages and  declining effectiveness in traditional marketing methods all suck profits from a once vibrant and progressive industry.
Add to this rapid changes in media, retail environments, and the rise of online, it is clear that what worked yesterday will not work tomorrow.Brands must adopt a new marketing approach, of which shopper marketing is a critical component.
Industry thought leaders such as Herb Sorensen and Brian Harris see an "urgent" need for change.
In The Shopper Marketing Revolution, shopper marketing pioneers Mike Anthony and Toby Desforges analyze why the industry needs to change, and provide managers in the field with pragmatic advice and proven techniques that they need to revolutionize their business. Mike and Toby introduce The Five Step Total Marketing Model – an approach that creates coherent links between the end consumer and the in-store environment. Total Marketing enables marketers to adapt strategies and resources to respond effectively to new shopping behaviors and environments. It illustrates the fundamental principles that brands must embrace to survive in these challenging times.
The Shopper Marketing Revolution is now available on Amazon.
(The Shopper Marketing Revolution will be) invaluable to the careers of very many of the marketing professionals in the industry, who can save themselves a lot of wheel spinning by studying the book to inform their own practice.

– Herb Sorenson (PhD) – Scientific Advisor (TNS Global), BrainTrust Member (RetailWire), Author of "Inside The Mind Of The Shopper"

(The Shopper Marketing Revolution) is a treatment on modern marketing with many of its examples pulled from the trenches.  It is elegantly written, and comprehensive, and for those on the fast track of modern business is a must read.

– Paco Underhill  – CEO (Envirosell Inc.)

(The Shopper Marketing Revolution) provides a clear and practical framework to guide organizations in making the necessary changes to successfully navigate and prosper from this new and exciting business environment… (the book) is a "must read" for all CPG manufacturers, retailers and the agencies that provide support for this rapidly coming of age business function.

– Dr. Brian Harris  – Chairman (The Partnering Group)

This highly readable book is essential for anyone interested in shopper marketing, from the novice to the advanced practitioner, and for other members of the firm, especially executive leaders.

– Chip Hoyt – Managing Director, The Tetrarchy